Developing confident and skilled soccer players.
Invincible Stars Soccer Academy
Invincible Stars Soccer Academy's main goal is to discover young players between the ages of 6-11 from all over BC's Lower Mainland, who have soccer abilities and to provide an organized and structured soccer academy program in a safe, secure, and enjoyable environment. Our philosophy models the Ajax Young Player Development process and integrates the Four Corner Model. Our approach focuses on making sure that every young proactive and committed player will develop for the Long Term (LTPD).
Our coaching staff are experienced former players who have played the game of soccer at high levels. They are qualified and certified professionals that are committed and dedicated to help nurture young players to achieve their full potential and soccer dreams. We provide inclusive soccer academy programs that help develop the young players to elevate their game, empower them to become masters of their craft and inspire them to become not only sound and outstanding players, but better people in their community. 
Developing confident and skilled soccer players
Learn More About Our Programs
Our Vision
Our vision is to recruit and to develop young players between the ages of 6–11 yrs and produce elite young players to gain top skills and technical abilities on the field and to be good individuals off the field. We want to produce young players that enjoy playing "attractive brand possession" based soccer that will help improve their skill, techniques, and decision-making year after year.
Our young players remain at the centre of everything we do while building a unique family- based soccer community that is positive, enjoyable, interactive, safe, fun, and nurtures a learning environment. The Player Centred Approach cultivates a lifelong passion for the Game of Soccer and provides the players with the opportunity to achieve their full individual potential. 
Our academy values the development of the young player. We aspire to elevate, empower and inspire the next generation soccer players to become the best version of themselves. Even though our academy focuses on developing elementary children, we enhance technical/tactical, physical, psychological, and social attributes for all age and skill levels. We provide a competitive platform that allows aspiring and committed players to continue playing at a higher, competitive level.
Our players and coaches will continue to be guided by principles of fair play, moral and ethical behaviour and a hard work ethic. Our coaches understand that no player is a number, but a mind to mold for good of the future and our community. We understand that the dream of becoming a skilled player can be achieved through discipline, commitment, repetition, perseverance and a drive for success.
Constant feedback is imperative. We encourage critical thinking and finding solutions in game scenarios to help improve the player's game intelligence. Player involvement through Q's and A's are key components to problem solving. Our dream is to one day see some of our academy players featured on the bigger international stage.
Development Phase Academy Program
We build on what we do. 
We love the game of soccer and we are passionate about developing young soccer players.
We Elevate player skill level and game form.
We Empower players to become good individuals and Inspire them through The Game of Soccer.
Our Philosophy
Players may develop at different paces but the principle core of our academy philosophy is always the same. Our focus is on the development of young players who are learning to move, learning to love the game and learning the skills of the game. 
Both at game and training sessions, we encourage:
The opportunity to enjoy playing the game and develop soccer skills. 

Retaining possession of the ball to dribble in 1v1/2v1 situations. 

Recovering the ball when the player loses it.

Freedom of expression to help with confidence and decision making.

Game training session design is skill appropriate. 

Creativity and a willingness to learn new skills without fear of failure.
The Phase of Play Diagram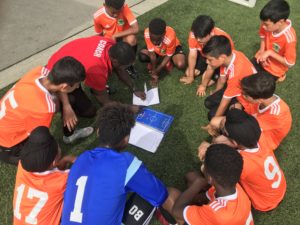 For Ages 6-8 years:
For the players aged 6 – 8, we focus on loads of touches on the ball, while those aged 9 – 11yrs start developing additional rules and more skills.
For Ages 9-11 years:
For the  9 – 11 year old's, we emphasize playing  attractive attacking and possession brand soccer with the goal to improve their skills and emphasize on the 4 aspects of the game of soccer.
We structure a program based on individuals, small groups and team tactics, exploring into more detail as the players progress in their knowledge and experience (player development pathway). We encourage our young players to be open to playing in multiple positions to foster skill levels development.
Our Soccer Coaches
Meet the team behind Invincible Stars Soccer Academy.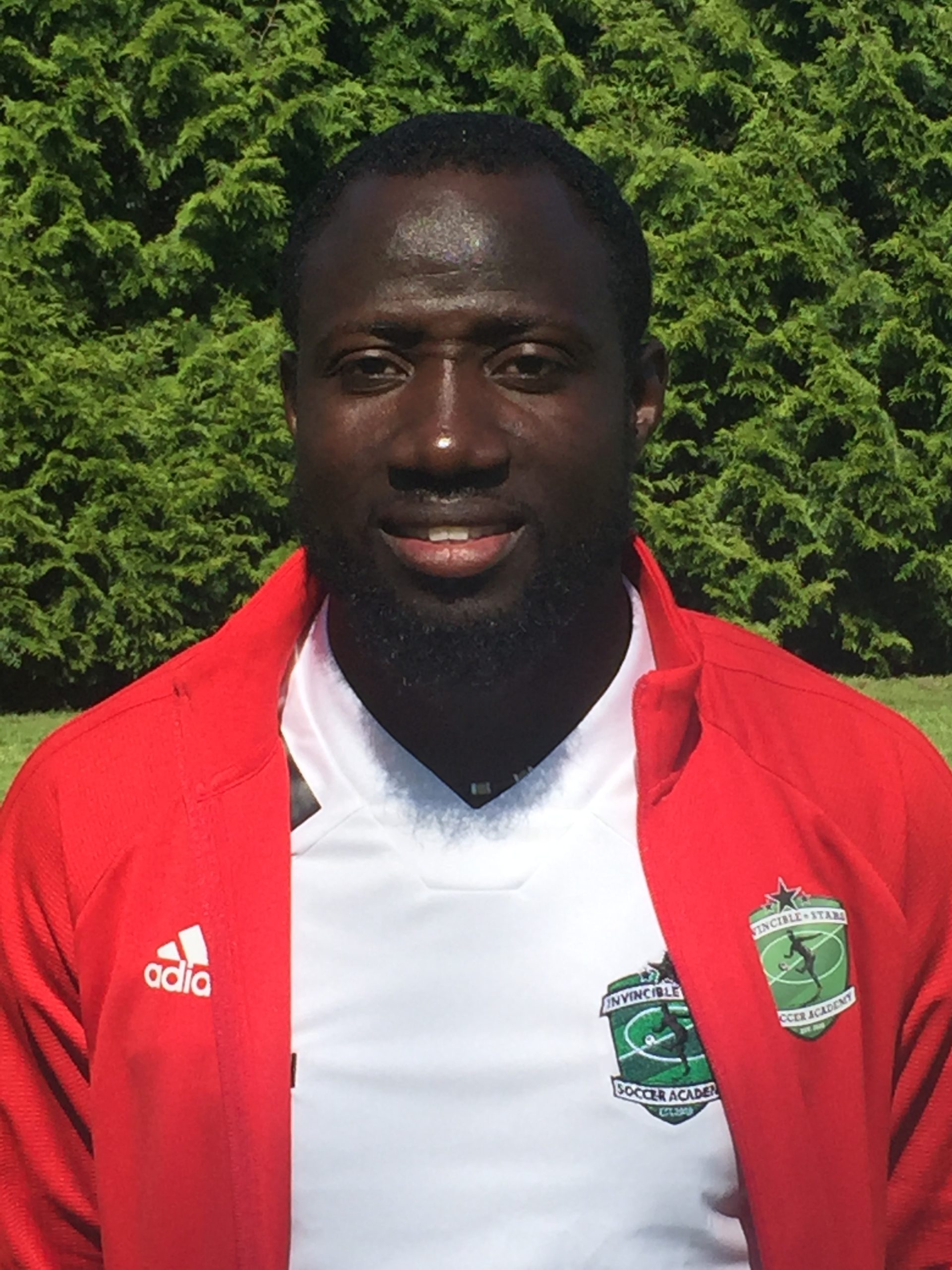 Coach Abdul Bah
Coach and Founder of Invincible Stars Soccer Academy
Adulah Bah is the founder of Invincible Stars Soccer Academy. Being an ex-semi-professional of the game himself, he now has two pre-teen boys that play and also have passion for the game. He feels deeply that his passion for the game be passed along to enrich his own children and other young soccer players.  After sustaining an injury that will keep Abdul from playing at a competitive level, he decided to dedicate his time and passion to help develop the young and upcoming generation to achieve their potential. 
Abdul has been coaching and developing young players  since 2005, ranging from micro-program to, selects/development team, metro teams  and advanced amature.  With his coaching and playing experience, he's aware that the Game of Soccer is constantly evolving. He continues to strive for excellence in educating himself in the industry.
Email: [email protected]
DM: [email protected]
Coaching Credentials
Technical Director Diploma – BC Soccer

Provincial B Licensed 

NSCAA Diploma in Small Sided Game

MED (Making Ethical Decisions)

Diverse Cultural Awareness certificate

Goalkeeping  Diploma level 1 –

United Soccer Coaches 
Coach Kalifah (KD)
Coach and Partner of Invincible Stars Soccer Academy
Coach Kalifah
(KD) dreamt as a child of becoming a professional soccer player and he went on to do exactly that. His promising career began in 2006 – 2008 at Mountain United FC.  He was awarded Most Valuable Player of the year for USL – BC. Coach KD played for BC Soccer – British Columbia, Canada, kicking off a career, where he would go on to play for International Clubs in Italy, England, Brazil and USA. However due to FIFA Rules and Regulations (Article 19), Coach KD was not afforded his opportunity to play league games at the International level. Coach KD spent 3 years with the National Training Centre – Canada, played for Team Canada U17 and also for the Vancouver Whitecaps FC.
Email: [email protected]
DM: [email protected]
Coaching Experience
:
Coach KD is a Partner of Invincible Stars Soccer Academy. He brings with him a wide range of knowledge and experience. His passion for the game is relentless and he now strives to put his energy, wealth of skills and knowledge towards developing the young generation to reach their potential. He volunteers as a coach at various community clubs within the Lower mainland, coaching micro -programs and metro level teams, specifically U12, U14 to U18 boys.