RETURN TO SPORT – SOCCER
INVINCIBLE STARS SOCCER ACADEMY is pleased to inform our players and parents about the Framework and Guidance documents set in place by Viasport and Canada Soccer, approved by BC Provincial Government to help make returning to sport possible.  As we welcome PHASE 1 of this progress and appreciate the idea of players being out on the pitch, we want to do so safely while protecting everyone involved.  Therefore, we have modified our academy training module to reflect the guidance document set in place while allowing players to develop their physical and technical abilities.  We deemed to do so by ensuring the following:
CONTROL MEASURES: Before Training Sessions
No drop-in permitted. Only registered players allowed in the pitch area;

All registered players will be encouraged to arrive no earlier than 3 minutes before start time, to avoid crossing paths;

All players will use the designated Entrance and Exit points to enter and exit the soccer pitch;

All players are encouraged to use the sanitizing station at Entrance and Exit point;

All players will be subjected to a self-check temperature check using an Infrared Forehead Thermometer to prevent transmission from unaware carriers. Accepted recording (37.8 *C), any recording above and the player will be sent home.
PHYSICAL DISTANCING ON THE PITCH
Invincible Stars Soccer Academy – designated staff will use markers to partition the pitch into grids with safe areas in between grids as per Covid-19 approved health guidelines and to have players social/physically distance during physical activity and;

3 meters social/physical distancing for any individualized technical ball related activity (small group);

Physical contact with anyone outside of the players household is strictly discouraged;

All players will be required to bring their own soccer ball. Players are to focus on using their own ball and exchange of soccer balls with other players willbe discouraged;

When a player touches any soccer ball with their hands, staff will encourage them to disinfect their hands promptly;

Our coaching staff will ensure that all activities follow the latest Provincial Government approved Covid-19 Return to Sport guidelines.
COVID-19 MODIFIED TRAINING SESSIONS (Physical Distancing)

We've modified our training sessions as per COVID-19 Guidelines. We all play a role in flattening the curve to help keep everyone safe. If we want to continue playing soccer, we need to follow the guidelines set in place to avoid a second wave or lockdown.
COVID-19 MODIFIED TRAINING SESSIONS (Physical Distancing Grids)

AFTER TRAINING SESSION: (Players and Coaching Staff)
Keep the recommended 2 meter social/physical distancing, staff will monitor and encourage players to disinfect hands and promptly depart the pitch after the training session

Congregating after training session will be strongly discouraged

Players and parents with questions are encouraged to text, call coach Abdul at (604) 537-7466  or coach KD at (604) 442-7593 , or email our coaching staff:  invinciblestarrs@gmail.com
MEASURES IN PLACE: Barrier/Masks/Cleaning Protocols
Using different Entrance/Exit points;

Modified Training session – to meet the current Covid-19 guidelines

pitch will be divided into grids using makers to separate and abide by the social/physical distancing guidelines;

2-meter physical distancing space between grids;

non-contact sessions

players will be assigned to a grid at the beginning of the training session;

exchange of grids between players is strictly discouraged at any time;

no handshakes between players, unless players are from the same household/bubble.

Staff in charge of disinfecting and body Infrared Forehead Thermometer should wear masks;

In case of player injury, a household member will be contacted and our designated staff member with proper PPE (Personal Protective Equipment) as per BC approved Health Guidelines, will attend to the injured player as required, unless injury sustained requires extensive medical attention

A designated staff member will oversee the handling and cleaning of all the Soccer Academy equipment. This will include cleaning/disinfecting required equipment before and after training sessions;
Players will be informed to refrain from spitting on the pitch before, during and after training sessions.
APPENDIX A – SPORT ACTIVITY CHART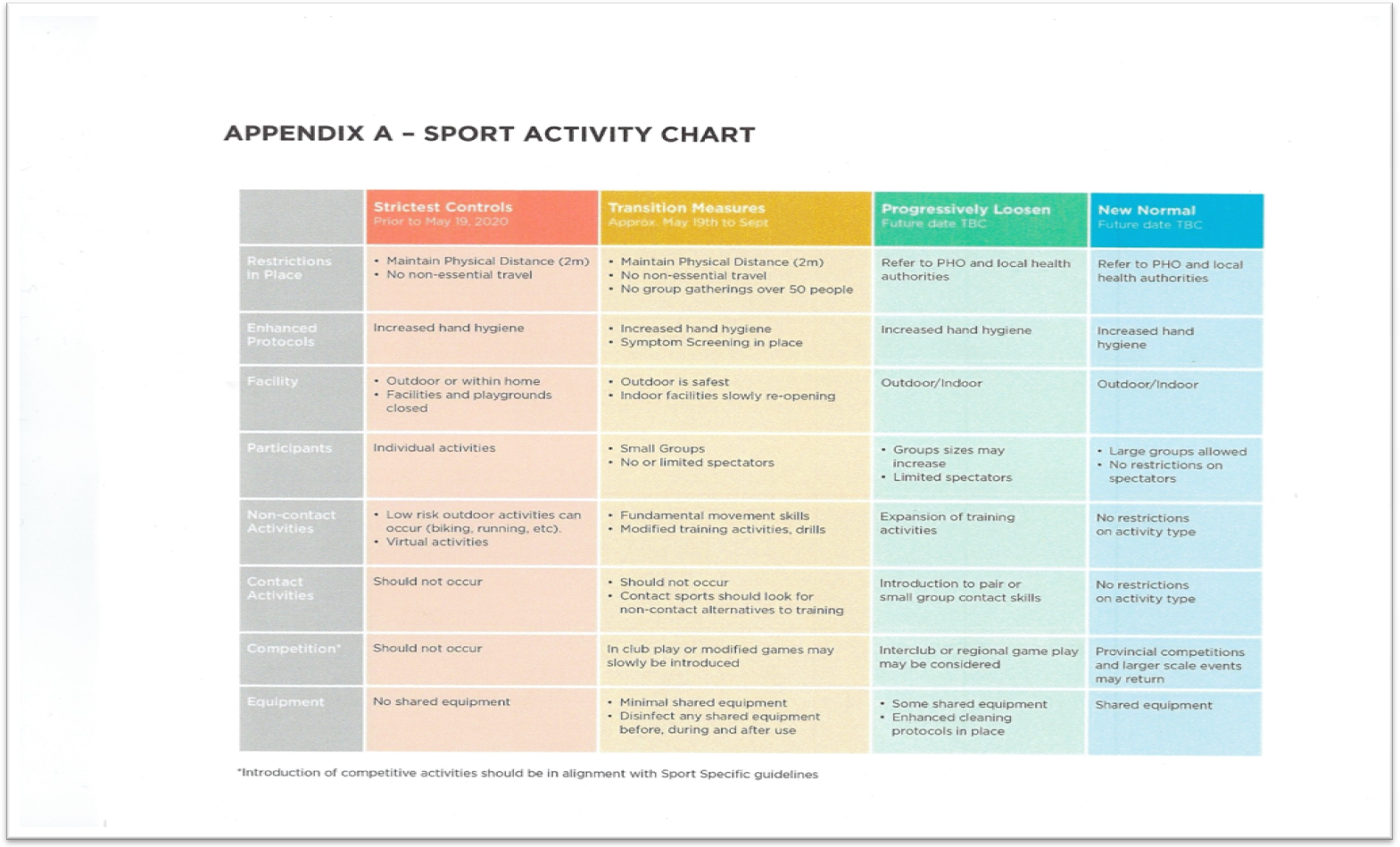 COVID-19 Policy
Invincible Stars Soccer Academy will follow the BC Government approved latest guidance;

Should any player show symptoms of the Covid-19 virus or have been in contact with someone displaying symptoms within the last 14 days, please stay home until you are cleared by a Health Practitioner that you no longer need to remain in isolation. Have a family member contact staff, and your spot will be reserved until you are able to return safely without infecting others;

Players and parents review and sign Waiver Form and BC approved Covid-19 policies.
REQUIRED GUIDELINES FOR EVERYONE TO FOLLOW
Keeping 2-meter distance upon entry onto pitch – all staff and registered players will use different Entrance/Exit points;

Use hand sanitizer at the Entrance/Exit points;

Player/parent consent to use body Infrared Forehead Thermometer to complete a temperature check;

Players with a temperature reading above 37.8 C will be asked to go home;

Players are not permitted to exchange water bottles or equipment in any form;

The guidelines of Covid-19 Return to Sports will be followed and enforced.
COMMUNICATION
Players and parents with questions are encouraged to text, call (604)537-7466 Abdul, or (604)442-7593 KD), or email: invinciblestarrs@gmail.com

All updates will be posted on INVINCIBLE STARS SOCCERACADEMY website.